9 tags
Desource - This Plague Called Love →
DESOURCE's new single/promo. facebook.com/desource
6 tags
8 tags
Prison Self (my first solo track) →
My first solo track off my forthcoming EP. edoardocasini.bandcamp.com soundcloud.com/edoardocasini
7 tags
6 tags
6 tags
10 tags
Watch
second DESOURCE studio update!! www.myspace.com/desource
8 tags
Watch
first DESOURCE studio Update! www.myspace.com/desource www.facebook.com/pages/Desource/128631750546010
8 tags
5 tags
4 tags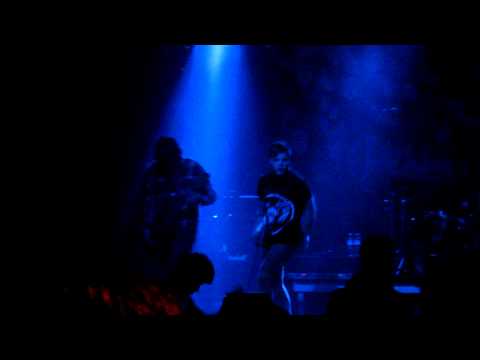 7 tags
5 tags
Arcane Roots (sick) new song. Looks like...
6 tags
Canadian Prophets.
If you are a serious hardcore fan and you have never heard of Counterparts you must be dumb, deaf or probably both. "Prophets", their debut LP out on Verona Records, is arguably one of the best CDs ever in the genre, in the vein of acts such Shai Hulud, Misery Signals and August Burns Red. Another proof of Canada's talent in providing the finest heaviness. ...
5 tags
Ask The Tubelord.
Imagine if The Fall Of Troy wouldn't break up and started to avoid such screaming and heavy breakdowns for a more "pop" attitude. This is TUBELORD, a gigantic Math Rock trio from Kingston, UK, recently signed under Hassle Records with the debut "Our First American Friends". Catch'em on the road as well… www.myspace.com/tubelord
6 tags
Dublin Heroes.
The good thing to be seriously disappointed by a show (Hundredth) is that maybe you find pretty interesting opening acts. Hero In Error (www.myspace.com/heroinerrordublin) are an absolute killer surprise, providing a heavy combination of post hardcore melodies and math: recently signed to Mediaskare Records, their first debut EP called "The High point of New Lows", is absolutely...
7 tags
Let Go.
Hundredth are up to release their new album "Let Go" on Mediaskare Records July the 5th, and they recently announced the tracklist also: 01 – "Let Go" 02 – "Weathered Town" 03 – "Live Today" 04 – "We Can Take Them All" 05 – "Carry On" 06 – "Humane" 07 – "Remain & Sustain" 08 – "Monumental Pt 2" 09 – "Monumental Pt 2" 10 – "I Hold The Key" 11 – "Restless" 12 – "Soul" ...
8 tags
9 tags
Deep Gold.
It is official: the latest Parkway Drive album, "Deep Blue", out last June the 25th, 2010 on Epitaph/Resist Records, produced by Joe "Evil" Barresi (Tool, Queens of The Stone Age, Bad Religion) has gone Gold. So happy for them and above all so happy for the whole Hardcore/Metal scene; I've been following Parkway Drive since their inception with "Don't...
8 tags
The Suicide Escape Plan.
Deathcore veterans Suicide Silence are up to release their new album called "The Black Crown" this coming summer, which is being produced by Steve Evetts, famous for his works with The Cure, Every Time I Die and above all, The Dillinger Escape Plan. A few Songs have been leaked sofar such "Human Violence", "Cancerous Skies" and "Fuck Everything",...
4 tags
Leveler(s).
August Burns Red annouced Cover & Tracklist from their upcoming release "Leveler", out June the 21st on Solid State Records, with a recent new video shoot. 1. Empire 2. Internal Cannon 3. Divisions 4. Cutting the Ties 5. Pangaea 6. Carpe Diem 7. 740 Nights 8. Salt & Light 9. Poor Millionaire 10. 1/16/2011 11. Boys of Fall 12. Leveler Stoked. www.myspace.com/augustburnsred
4 tags
I am Nothing, We are Nothing.
Carpathian has broken up, another great Hardcore band falling apart. "The realisation that I still don't know what I'm doing here, Put in perspective I am nothing, we are nothing It feels like something has been wasted, and I am fading Time is growing against me as I grow tired of being Just another soul spent searching for something inside, I hate my fucking guts, I...
5 tags
Night Kills, Kid, Night Kills.
Passionate Hardcore/Punk from Italy, Locked In would be the perfect child from a married version of Comeback Kid and Sick Of It All. Their first album, under the underground label Hurry Up! Records, "Walk The Plank", is another great example of what is the shape of modern hardcore music, including real hits like "Hold Fast" and "Night Kills". And some say a...
4 tags
The Djentleman.
In terms of music Idols I think no one can beat this guy for me. Lead singer for probably the best Hardcore/Metal band in world, the canadiad Shai Hulud inspired prog/core gods Misery Signals (www.myspace.com/miserysignals), I recently discovered his last solo project, Solace. Mindblowing polyrhythms, dreaming melodies and crushing breakdowns are the elements you can find in his up to be...
4 tags
Hundredth (Monkey).
"When we will Surrender" is simply the best Hardcore album of 2010. "Desolate", "Betrayer" and "Greater" still remain my favourite songs, but it's really hard to declare which one is the actual best in the whole album. Recently signed to Mediaskare Records (The Ghost Inside, As Blood Runs Black among others), they're planning to...
5 tags
Il Segreto.
Italians do it better, you know the story: but you woulnd't except a four piece from Trieste to play the heaviest music you can think of. Recently signed to the giant Southern Lord Records, The Secret have got just a new album out called "Solve et Coagula" which is probably their best effort ever, produced by the legendary Kurt Ballou, lead guitarist from Converge. The result...
3 tags
(Wuthering) Heights.
The finest new english Hardcore comes from Hertfordshire (I don't have a clue about where it is but it looks cool). A bunch of guys that play the heaviest breakdowns combined with atmospheric melodies that remind me of the newest bands on the scene, such The Eyes of A Traitor. Just definetly better: www.myspace.com/weareheights
4 tags
(You Are) In this Town of such Weather.
No such band as Arcane Roots is rising up so fast in my personal playlist these times: providing a widely influenced Alternative Rock, the surrey based three piece with their first effort called "Left Fire" they probably brought us the best mini debut album of the year. 8 tracks of violent crossover between the realms of modern "mainstream" rock sound and the rawness of...
4 tags
Eva Spence for President.
I absolutely fell in love with Eva Spence: she's the lead singer from the synth/mathcore band Rolo Tomassi (www.myspace.com/rolotomassi) and she also runs an independent activity that provides handcrafted goods like shirts, bags and others, called "The Night of The Living Thread" (www.thenightofthelivingthread.com) I've seen RT on tour with Holy State...